In person training has been placed on hold due to COVID-19 although we continue to offer virtual training to universities via Zoom, Microsoft Teams and other means.
Future training sessions will be posted here in due course.
1/2 Day Professional Training on Thursday 17th October 2019 'Representing Students at University Appeal/Misconduct Hearings'
Directed by Dr Daniel Sokol, Barrister and Former Honorary Senior Lecturer in Medical Ethics and Law, Imperial College London.

For student union advisers who assist and represent students at academic and misconduct hearings and appeals
Introduction
Many student advisers have received no formal training in written or oral advocacy despite this forming an important part of their role. Poor advocacy may undermine the student's prospects of success and damage the reputation of the student advisory service.
This unique training course is aimed at student advisers who wish to improve their skills of persuasion and advocacy.
The course, led by a practising barrister with extensive experience of university hearings, will include plenty of real-life examples and cover the following areas:
- case preparation
- opening submissions
- handling witnesses (including how to ask questions effectively)
- defusing an unfavourable report
- closing submissions
- handling difficult panels
- the golden rules of oral advocacy
- common pitfalls to avoid
The training will use concrete examples to demonstrate the techniques and there will be an opportunity for delegates to practice some of the skills learnt.
What others have said
"I found Daniel's training invaluable. His vast experience both in the courtroom and at appeal hearings means he is perfectly placed to offer example-based guidance on ensuring that University procedures are fair and equitable. Highly recommended."
Richard Booth, Student Casework Manager, Birmingham City University
"I can highly recommend the Student Appeals Training with Daniel Sokol. The information Daniel shared was accessible, interesting and appropriate. He was generous with the information he provided. I have improved my handling of complaints and appeals as a result of the training."
Warren Rodell, Student Disputes Officer, Oxford Brookes University
"Daniel was fantastic! He put Academic Advice into a proper legal context, making me realise that this is a subject that needs to be taken more seriously and all academic advisers should be required to attend training. I would highly recommend this training to all student union advisers as well as university appeals and complaints staff."
Wendy Dant, Loughborough University Student Advice & Support Service
Who Should Attend?
This course is intended for all student union staff involved in student hearings.
Presenter
Dr. Daniel Sokol (Course Director), PhD MSc MSc MA BPTC GDL
Barrister and Founder, Alpha Academic Appeals
Former Lecturer in Ethics, Keele University and St George's, University of London; Former Honorary Senior Lecturer in Medical Ethics and Law, Imperial College Faculty of Medicine.
Fee
£100/person + VAT

Date
Thursday 17th October 2019

Time
1.30pm to 5pm

Venue
12 King's Bench Walk, Temple, London, EC4Y 7EL

Booking
To book a place please contact Daniel Sokol, E Sokol@12kbw.co.uk or T 0207 871 3661

Please note that there is a maximum capacity of 40 delegates, so early booking is advised.

In-House Course Fee
This can be provided throughout the year: £2,500 + VAT (plus economy travel from London). There is no limit to the number of delegates who may attend.
10 Reasons to Choose Alpha Academic Appeals
Trusted by student unions, embassies, lawyers, and academics
Same day appointments 7 days a week, subject to availability
Reduce stress by allowing our team of experts to do all the hard work
Barrister led. Benefit from the advice of our 12 barristers
Clear, honest advice on improving your chances of a successful outcome
Obtain a sample written statement that you can use as a template
Obtain a quicker resolution to your problem
Gain insights from our collective experience of thousands of university appeals and complaints (see Reviews)
Pay a fixed price. No unpredictable hourly rates
Pay by installments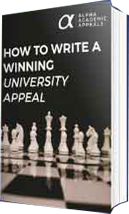 Download Our Free Guide to Writing a Winning University Appeal Now