Accused of academic misconduct and wondering how best to defend yourself?
Whether guilty or innocent, when students receive that letter from the university informing them of a suspicion of cheating, they are often terrified. A finding of guilt can result in a lower degree and remain in the student's record, potentially affecting employment prospects.
Yet, this is precisely the time when a cool head is needed to increase the prospects of a good outcome, whether it's a finding of 'not guilty' or a sanction that does not risk affecting the student's degree or their future job prospects.
We help students and their families deal with allegations of academic misconduct, from bringing a phone or tablet in an exam to paying someone to write an essay.
We are experts in cheating cases and, where appropriate, we use a range of other experts, such as IT and linguistics specialists, to help build the strongest possible case for the student.
All our advisers are qualified, practising barristers with experience and expertise in defending academic misconduct cases.
We know that a finding of academic misconduct can be devastating to you and your family and so we work tirelessly, 7 days a week, to help you achieve a compelling defence.
We did this for Noor, who was accused by her university of buying an essay. She wrote this about her experience:
"In my case, the University's style was bullying and belligerent and alone I would have been lost in an overwhelming bureaucracy. Dr Sokol cut through the waffle to the heart of the case against me with a tactical intelligence that only someone of his nature and calibre possesses. He saw things that I, and even the University, did not, getting to the point and ultimately refuting the case against me. He won the case for me on appeal, as I deluded myself into believing that I could deal with it myself, leading up to that final chance. If you are involved in any academic misconduct case with your university, however trivial you believe it to be, do not hesitate to engage Alpha Academic Appeals, who will bring experience, competence and diligence to your case."
We are trusted by embassies, academics and student unions, and we train university staff and student advisers on how to conduct academic misconduct cases. The Brunel University Student Union, for example, states on its official website: "we recommend the barristers at Alpha Academic Appeals who specialise in academic misconduct cases."
Contact us for a free enquiry. Please take a look at our FAQs first and then either complete the online enquiry here or call us directly on 0800 368 9230.
10 Reasons to Choose Alpha Academic Appeals
Specialist lawyers with deep sector knowledge of university appeals and complaints.
Emphasis on quality. We appreciate the importance, urgency and potential consequences of an appeal/complaint.
Same day appointments available, subject to availability of advisory team.
Friendly and personal service, available 7 days/week.
Extensive experience of thousands of university appeals and complaints and proven track record (see Reviews).
Large team of 10 barristers, including certified mediators, arbitrators, adjudicators, and former CPS advocates.
Fixed price. No unpredictable hourly rates.
Advisory team includes 3 former university lecturers.
We train university staff and student union advisers.
Embassies, solicitors, academics and student unions refer students to us for help with their appeals.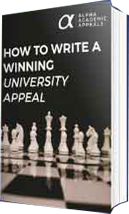 Download Our Free Guide to Writing a Winning University Appeal Now