We appreciate that many of you have limited funds. There is no charge, therefore, for the initial telephone enquiry.
Prices vary depending on the complexity of the matter and the amount of work required.
We also offer a review service, providing detailed written comments and suggestions on an appeal statement you intend to submit.
Finally, we offer face-to-face consultations, in person or through Skype, about prospective appeals. In the consultation, we offer practical guidance on how best to negotiate the appeal process. This is appropriate in more complex cases.
At the end of the initial discussion, we will offer a cost estimate. It is entirely up to you whether you choose to continue using us.
Recognising that deadlines for appeals can be tight, in 2018 we launched an 'express' service for urgent assistance.
All the prices we quote include time spent on preparation (e.g., reading and research time). There are no added charges.
In exceptional cases which do not lend themselves to a fixed fee, we may suggest an hourly rate arrangement.
10 Reasons to Choose Alpha Academic Appeals
Same day appointments available. Fast access to university appeal experts.
Highly qualified team of 8 specialist barristers (click here for the difference between barristers and solicitors), including 1 accredited mediator
Free initial enquiry (subject to adviser availability) with no obligations
Specialism in student appeals and misconduct cases
Extensive experience and proven track record (see Reviews)
Team lead by 2 former university lecturers, with insider knowledge of universities
Fixed price. No unpredictable hourly rates for reading documents, answering e-mails, etc
Approachable and personal service, available 7 days a week, from 7.30am to 10pm (UK time)
We train university staff and student advisers
Embassies, solicitors, academics and student unions refer students to us for help with their appeals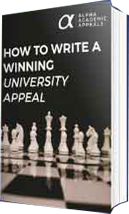 Download Our Free Guide to Writing a Winning University Appeal Now