Unlike most firms, we usually operate on a fixed price basis rather than an hourly rate.
In light of the COVID-19 pandemic and its adverse impact on people's finances, we can now offer payment by installments in certain circumstances.
We have plans for nearly all budgets. To get the pricing list with details of each plan, please call now on 0800 368 9230 or simply ask for the list by completing the online form on this page. We'll send this to your e-mail address within minutes.
For those on a shoestring budget, we have created a unique online video tutorial on how to produce a winning appeal. It has proved very popular with students and is recommended by some student unions. Click here for more information.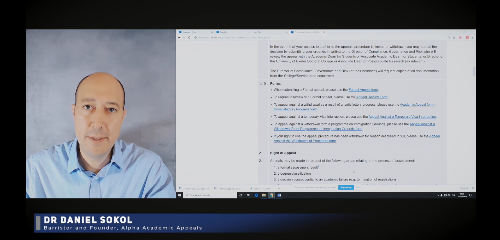 10 Reasons to Choose Alpha Academic Appeals
Trusted by student unions, embassies, lawyers, and academics. We received over 2,500 queries in the last 12 months.
Same day appointments 7 days a week, subject to availability
Reduce stress by allowing our team of experts to do all the hard work
Barrister led. Benefit from the advice of our 15 barristers
Clear, honest advice on improving your chances of a successful outcome
Obtain a sample written statement that you can use as a template
Obtain a quicker resolution to your problem
Gain insights from our collective experience of thousands of university appeals and complaints (see Reviews)
Pay a fixed price. No unpredictable hourly rates
Our offices are open every day, with extended hours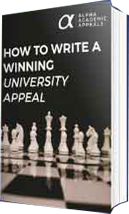 Download Our Free Guide to Writing a Winning University Appeal Now