We have plans for nearly all budgets. To get the pricing list, please either call now on 0800 368 9230 or ask for the list by completing the online form on this page. We'll send that to your e-mail address straight away.
As many clients were calling us asking for immediate assistance, in 2018 we launched an 'express' service for urgent case. We can usually arrange consultations with a barrister within 24 hours.
In exceptional cases which do not lend themselves to a fixed fee, we may suggest an hourly rate arrangement.
10 Reasons to Choose Alpha Academic Appeals
Specialist lawyers with deep sector knowledge of university appeals and complaints.
Emphasis on quality. We appreciate the importance, urgency and potential consequences of an appeal/complaint.
Same day appointments available, subject to availability of advisory team.
Friendly and personal service, available 7 days/week.
Extensive experience of thousands of university appeals and complaints and proven track record (see Reviews).
Large team of 10 barristers, including certified mediators, arbitrators, adjudicators, and former CPS advocates.
Fixed price. No unpredictable hourly rates.
Advisory team includes 3 former university lecturers.
We train university staff and student union advisers.
Embassies, solicitors, academics and student unions refer students to us for help with their appeals.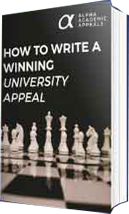 Download Our Free Guide to Writing a Winning University Appeal Now