Appealing a GCSE/A-Level Outcome
Poor GCSE or A-Levels can adversely affect a young person's educational and career prospects.
In some cases, where a certain threshold grade is required to allow continuation into the VIth form, a poor result can lead to a student's forced withdrawal from the school.
Poor A-levels can result in the loss of a university place, with knock-on consequences to students and their family.
Our expert barristers help students, parents and schools appeal decisions of awarding bodies, including findings of cheating and misconduct. Such findings are on the rise with the increasing pressure on students and teachers to succeed.
In 2018, examination boards issued 2,715 penalties to students for misconduct such as taking unauthorised material into the exam to collusion and plagiarism. This was a significant increase from the 2,180 penalties issued the previous year.
Our role is to provide sound advice and produce a persuasive appeal to put the student's case in the best possible light. The aim is to achieve a 'not guilty' finding, to reduce the severity of a sanction, and/or to lead to a higher mark.
We have particular expertise with independent schools and are happy to liaise with schools if necessary.
One parent commented:
"Within 10 minutes of my email to Alpha Academic Appeals we had a meeting the next day booked in London to discuss my son's situation and a possible appeal. I found Daniel to be very well versed in his subject and his advice invaluable. He completely removed the emotion out of the situation and produced a very well written and thought through appeal.
I can only urge other parents in a similar situation to make the investment."
Contact us for a free enquiry. Please take a look at our FAQs first and then either complete the online enquiry here or call us directly on 0800 368 9230.
10 Reasons to Choose Alpha Academic Appeals
Specialist lawyers with deep sector knowledge of university appeals and complaints.
Emphasis on quality. We appreciate the importance, urgency and potential consequences of an appeal/complaint.
Same day appointments available, subject to availability of advisory team.
Friendly and personal service, available 7 days/week.
Extensive experience of thousands of university appeals and complaints and proven track record (see Reviews).
Large team of 10 barristers, including certified mediators, arbitrators, adjudicators, and former CPS advocates.
Fixed price. No unpredictable hourly rates.
Advisory team includes 3 former university lecturers.
We train university staff and student union advisers.
Embassies, solicitors, academics and student unions refer students to us for help with their appeals.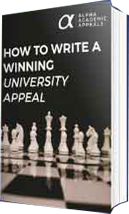 Download Our Free Guide to Writing a Winning University Appeal Now