Appealing an A-Level result (Tuesday 10th August 2021)
NEW FOR AUGUST 2021: our barristers have developed a short online video tutorial to help students and parents understand the Summer 2021 A-level appeals process, decide whether to appeal, and lodge a strong appeal to the School (Stage 1) or Awarding Body (Stage 2). The tutorial is available here (with free preview).
UPDATE ON 10th AUGUST 2021: Same-day, one-to-one consultations with advisers are offered subject to availability. We currently have 5 legally qualified advisers working on A-level appeals. Please be patient if you cannot get through to us immediately.
Poor A-Levels can adversely affect a young person's educational and career prospects. Strong academic results are all the more important in light of the anticipated disruption to the job market as a result of COVID-19.
Poor A-levels can also result in the loss of a university place, with knock-on consequences to students and their family.
Our expert advisers are legally qualified and fully up to date with the rules regarding A-level appeals (JCQ, OFQUAL, etc.). They will help students, parents and schools appeal the unfair decisions of schools and awarding bodies, including lower than expected grades and findings of cheating and misconduct.
Our role is to provide sound advice and produce a persuasive appeal to put the student's case in the best possible light. The aim is to achieve a mark that best reflects the student's true ability.
One parent commented:
"Within 10 minutes of my email to Alpha Academic Appeals we had a meeting the next day booked in London to discuss my son's situation and a possible appeal. I found Daniel to be very well versed in his subject and his advice invaluable. He completely removed the emotion out of the situation and produced a very well written and thought through appeal.
I can only urge other parents in a similar situation to make the investment."
Contact us now for a free enquiry. Please complete the online enquiry here or call us directly on 0800 368 9230.
10 Reasons to Choose Alpha Academic Appeals
Trusted by student unions, embassies, lawyers, and academics. We received over 2,500 queries in the last 12 months.
Same day appointments 7 days a week, subject to availability
Reduce stress by allowing our team of experts to do all the hard work
Barrister led. Benefit from the advice of our 15 barristers
Clear, honest advice on improving your chances of a successful outcome
Obtain a sample written statement that you can use as a template
Obtain a quicker resolution to your problem
Gain insights from our collective experience of thousands of university appeals and complaints (see Reviews)
Pay a fixed price. No unpredictable hourly rates
Our offices are open every day, from 7.30am to 10pm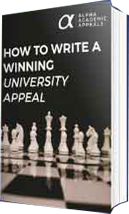 Download Our Free Guide to Writing a Winning University Appeal Now