我们的专业律师团队在处理中国学生(从一年级本科生到即将毕业的博士生)诉讼案件方面拥有丰富的经验。
我们也非常重视文化敏感性和机密性。
我们意识到上诉的期限很短,所以我们提供快速预约服务,可以当面预约,也可以通过Skype进行预约。
我们的目标是让您毫无压力地完成上诉,并努力获取最大胜算。
现在打电话,即可进行免费咨询:0800 368 9230。
10 Reasons to Choose Alpha Academic Appeals
Specialist lawyers with deep sector knowledge of university appeals and complaints.
Emphasis on quality. We appreciate the importance, urgency and potential consequences of an appeal/complaint.
Same day appointments available, subject to availability of advisory team.
Friendly and personal service, available 7 days/week.
Extensive experience of thousands of university appeals and complaints and proven track record (see Reviews).
Large team of 10 barristers, including certified mediators, arbitrators, adjudicators, and former CPS advocates.
Fixed price. No unpredictable hourly rates.
Advisory team includes 3 former university lecturers.
We train university staff and student union advisers.
Embassies, solicitors, academics and student unions refer students to us for help with their appeals.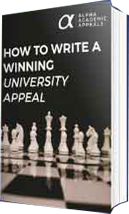 Download Our Free Guide to Writing a Winning University Appeal Now