Failed your PhD and wondering whether you should appeal it?
A PhD is the terminal degree and represents years of hard work. It is often a necessary step for a career in academia. Failing a PhD is usually a hugely distressing event and many students are in shock when told of the failure or, more commonly, the award of a lower degree, such as a Master's.
We have extensive experience of helping PhD students return to their doctoral studies and complete their PhD, DPhil or professional doctorate. Our lead adviser has gone through the PhD process himself and so knows first-hand how it feels to be a PhD student. He has also worked in academia as a lecturer.
All our advisers are practising barristers with expertise in doctoral appeals. One PhD student wrote:
"When I received the result of my viva - an MPhil rather than a PhD - no one backed me up. Not even my supervisors. I felt really desperate. I did an Internet research and, after considering my options, decided to go with Dr Sokol. I was very lucky to have him. I loved the fact that he replied promptly to e-mails, giving answers to any questions, and was reassuring and supportive. I felt in safe hands. Having looked at my case, he estimated my chances of success at about 40%. He then wrote a remarkably clear and persuasive appeal statement, and I was delighted when my appeal was upheld. I would definitely advise other students in the unfortunate situation of an academic appeal to come to Dr Sokol."
We are acutely aware of the huge importance of a PhD appeal to students (and, often, their families) and take pride in the skill and professionalism we bring to every case.
We are trusted by embassies, academics and student unions, and we train university staff and student advisers.
Contact us for a free enquiry. Please take a look at our FAQs first and then either complete the online enquiry here or call us directly on 0800 368 9230.
10 Reasons to Choose Alpha Academic Appeals
Same day appointments available. Fast access to university appeal experts.
Highly qualified team of 10 specialist barristers, including 1 mediator, 1 arbitrator and 2 former Crown Prosecution Service advocates.
Team includes 3 former university lecturers, with insider knowledge of universities.
Free initial enquiry (subject to adviser availability) with no obligations.
Specialism in student appeals and misconduct cases.
Extensive experience and proven track record (see Reviews).
Fixed price. No unpredictable hourly rates for reading documents, answering e-mails, etc.
Approachable and personal service, available 7 days a week, from 7.30am to 10pm (UK time).
We train university staff and student advisers.
Embassies, solicitors, academics and student unions refer students to us for help with their appeals.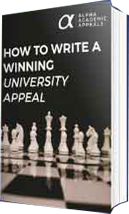 Download Our Free Guide to Writing a Winning University Appeal Now