How to appeal if you failed your PhD
A PhD is the terminal degree and represents years of hard work. It is often a necessary step for a career in academia and gives a significant advantage in job applications outside academia. This will be particularly important in the post-COVID graduate job market, where a doctorate should stand a candidate apart from most others.
Failing a PhD is usually a highly distressing event for students and their families. We have extensive experience of helping PhD students return to their doctoral studies and complete their PhD, DPhil or professional doctorate. Our lead adviser has gone through the PhD process himself and knows first-hand how it feels to be a PhD student. We also have 3 former academics on our advisory team.
We currently have 14 practising barristers, fully registered with the Bar Standards Board, with expertise in doctoral appeals. One PhD student wrote:
"When I received the result of my viva - an MPhil rather than a PhD - no one backed me up. Not even my supervisors. I felt really desperate. I did an Internet research and, after considering my options, decided to go with Dr Sokol. I was very lucky to have him. I loved the fact that he replied promptly to e-mails, giving answers to any questions, and was reassuring and supportive. I felt in safe hands. Having looked at my case, he estimated my chances of success at about 40%. He then wrote a remarkably clear and persuasive appeal statement, and I was delighted when my appeal was upheld. I would definitely advise other students in the unfortunate situation of an academic appeal to come to Dr Sokol."
We are acutely aware of the vital importance of a PhD appeal to students and take pride in the skill and professionalism we bring to every case.
We are trusted by academics (supervisors have referred students to us), student unions, and embassies, and we provide regular training to university staff and student advisers. We have also published articles in national newspapers on PhD appeals.
Contact us for a free enquiry. Please either complete the online enquiry here or call us directly on 0800 368 9230 to discuss your case with no obligations.
For those on a shoestring budget, we have created a unique online video tutorial on how to produce a winning appeal. It is the most affordable way to get professional help with your appeal. It has proved very popular with students and is recommended by some student unions. Click here for more information.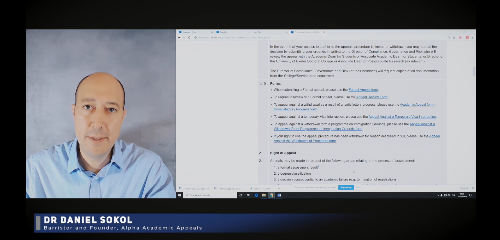 10 Reasons to Choose Alpha Academic Appeals
Trusted by student unions, embassies, lawyers, and academics. We received over 2,500 queries in the last 12 months.
Same day appointments 7 days a week, subject to availability
Reduce stress by allowing our team of experts to do all the hard work
Barrister led. Benefit from the advice of our 15 barristers
Clear, honest advice on improving your chances of a successful outcome
Obtain a sample written statement that you can use as a template
Obtain a quicker resolution to your problem
Gain insights from our collective experience of thousands of university appeals and complaints (see Reviews)
Pay a fixed price. No unpredictable hourly rates
Our offices are open every day, with extended hours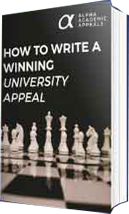 Download Our Free Guide to Writing a Winning University Appeal Now