The Alpha Academic Appeals team has published several articles on student appeals. A selection appears below.
Appealing decisions of your medical school - a guide for medical students (2018)
Tips for Student Union advisers who attend hearings with students (2017)
Top tips on representing yourself at student hearings Student Wire (2015)
Students deserve a fair hearing from universities' Times Higher Education (2013)
How to appeal if you fail at university Guardian (2013)
Academic appeals: a serious business Guardian (2013)
Students who have been withdrawn or left university before the completion of their course, and who are contemplating what to do next, may wish to get in touch with the Student Relaunch Programme. It is a not for profit organisation offering impartial Advice and Guidance to early leavers from higher education institutions in England (www.studentrelaunch.org). The Programme is unrelated to Alpha Academic Appeals.
10 Reasons to Choose Alpha Academic Appeals
Same day appointments available. Fast access to university appeal experts.
Highly qualified team of 8 specialist barristers (click here for the difference between barristers and solicitors), including 1 accredited mediator
Free initial enquiry (subject to adviser availability) with no obligations
Specialism in student appeals and misconduct cases
Extensive experience and proven track record (see Reviews)
Team lead by 2 former university lecturers, with insider knowledge of universities
Fixed price. No unpredictable hourly rates for reading documents, answering e-mails, etc
Approachable and personal service, available 7 days a week, from 7.30am to 10pm (UK time)
We train university staff and student advisers
Embassies, solicitors, academics and student unions refer students to us for help with their appeals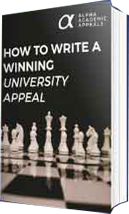 Download Our Free Guide to Writing a Winning University Appeal Now