In early 2020, the Alpha Academic Appeals team produced a new online video tutorial on handling allegations of academic misconduct. It contains lots of advice on how to defend yourself against these potentially life-changing allegations. You can learn more about the tutorial here.
In September 2019, the team created 'The No-Nonsense Guide to Writing a Great Appeal'. The 45-minute course should greatly improve your appeal and will help avoid common pitfalls.
We also have free download guides on academic appeals and misconduct. These are available on this website.
The team has published several articles on student appeals. A selection appears below.
How to avoid failing your PhD dissertation, Inside Higher Ed (2020)
Students are being let down by academic misconduct tribunal, The Times (2018)
Appealing decisions of your medical school - a guide for medical students (2018)
Tips for Student Union advisers who attend hearings with students (2017)
Top tips on representing yourself at student hearings Student Wire (2015)
Students deserve a fair hearing from universities' Times Higher Education (2013)
How to appeal if you fail at university Guardian (2013)
Academic appeals: a serious business Guardian (2013)
Feel free to call us directly on 0800 368 9230 to discuss your case confidentially or complete an enquiry form on this website.
10 Reasons to Choose Alpha Academic Appeals
Trusted by student unions, embassies, lawyers, and academics. We received over 2,500 queries in the last 12 months.
Same day appointments 7 days a week, subject to availability
Reduce stress by allowing our team of experts to do all the hard work
Barrister led. Benefit from the advice of our 12 barristers
Clear, honest advice on improving your chances of a successful outcome
Obtain a sample written statement that you can use as a template
Obtain a quicker resolution to your problem
Gain insights from our collective experience of thousands of university appeals and complaints (see Reviews)
Pay a fixed price. No unpredictable hourly rates
Pay by installments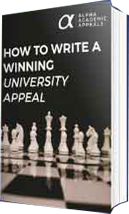 Download Our Free Guide to Writing a Winning University Appeal Now