The Alpha Academic Appeals team will be in touch shortly.
If you have asked for our FREE guide to writing university appeals, you will very shortly receive an e-mail asking you to confirm you e-mail address. Once done, you will receive another e-mail with the link to your free guide.
Thanks again and please do give us feedback. We are always seeking to improve our services.
10 Reasons to Choose Alpha Academic Appeals
Trusted by student unions, embassies, lawyers, and academics. We received over 2,500 queries in the last 12 months.
Same day appointments 7 days a week, subject to availability
Reduce stress by allowing our team of experts to do all the hard work
Barrister led. Benefit from the advice of our 15 barristers
Clear, honest advice on improving your chances of a successful outcome
Obtain a sample written statement that you can use as a template
Obtain a quicker resolution to your problem
Gain insights from our collective experience of thousands of university appeals and complaints (see Reviews)
Pay a fixed price. No unpredictable hourly rates
Our offices are open every day, from 7.30am to 10pm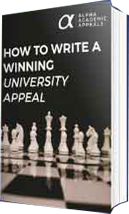 Download Our Free Guide to Writing a Winning University Appeal Now