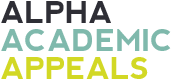 REQUEST HELP WITH AN APPEAL
PRICES
We appreciate that most students have limited funds. There is no charge, therefore, for the initial discussion.
Prices vary depending on the complexity of the matter and the amount of work required.
At the end of the initial discussion, we will offer a cost estimate. It is entirely up to you whether you choose to continue using us.