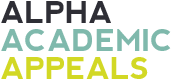 REQUEST HELP WITH AN APPEAL
ABOUT US
Alpha Academic Appeals combines a professional approach with a friendly service. We understand the significance of the appeal to your future, and appreciate that appealing a decision can be daunting. We are here to help you through the process. While we cannot guarantee success in all cases, our goal is to provide the best possible chance of obtaining your desired result.
We assist students with the following issues:
- academic appeals at university level
- student complaints
- appeals concerning professional exams (e.g., post-qualification medical exams)
- plagiarism
- academic misconduct
- disciplinary matters
- fitness to practice
- breach of contract
- negligence
- misrepresentation
The advisory team is led by Daniel Sokol, PhD, an academic and practising barrister with experience of supervising and examining undergraduate and postgraduate students and conducting academic appeals. He is uniquely placed to understand the viewpoint of both students and staff. He still lectures and appears regularly as an advocate in court.
For more on Daniel Sokol, please click here.