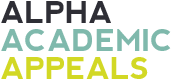 REQUEST HELP WITH AN APPEAL
TESTIMONIALS
"I called a law firm and the first thing they asked me was how much I could pay. I then called Alpha and they asked me about my case. Right from the start, it was clear they knew what they were doing and the letter of appeal was nothing less than fantastic. It captured exactly what I wanted to say but more persuasively than I ever could do myself."
A, City University
"I received outstanding service from Alpha Academic Appeals. From the initial telephone discussion right through to the final meeting, I was provided with excellent advice and support; I felt completely reassured that I was being heard and I was kept involved every step of the way. Daniel dealt with my situation very promptly and professionally, the end result being a fantastic appeal statement that summed up everything that needed to be said in a very clear and concise manner. The service I received was second to none, I would recommend very highly."
M, King's College London
"Upon receiving a decision of expulsion from my university, my chances of an appeal being upheld seemed slim. I took my case to Daniel, who through his knowledge and professionalism, and within a short space of time, prepared what I thought was the impossible, a very strong case that overturned my original expulsion. Impressive!"
S, University of Manchester
"Using Alpha was a quick and reassuring process. I felt confident with the way my case was handled and felt that using Alpha's services helped me develop the strongest case possible to present to the appeals board. If I met someone in a similar situation I would recommend this service as it helped me tremendously."
K, University of East London
"Arriving at a time of extreme anxiety, meeting Daniel at Alpha was a true relief. Realistic goals were established from the onset and it was clear that he had an unparalleled understanding of the appeal system, providing courses of action that would otherwise have been overlooked. Satisfaction of the client was paramount. The service was truly outstanding and I would recommend without hesitation."
L, Cambridge University
"We are very pleased with your expertise and the help you were capable of providing, in a short time frame. We could not have analysed and handled the situation and our response without your invaluable assistance. Win or lose, we feel you have given us a small window of success that we could not have achieved."
L, Leeds University
"I believed that my chances of a successful appeal were tiny and indeed they were, but with Daniel's professionalism and drive we achieved the impossible! I'm delighted I found Alpha and I will definitely recommend it to others."
M, University of St Andrews
"Alpha Academic Appeal provided an extremely thorough service during an appeal process regarding my PhD. Throughout this difficult time, I felt that every possible angle was being covered. Without such assistance, I would not have been aware that there had been severe breaches of procedure incurred, of which such disclosure led to a successful outcome. AAA are extremely thorough, efficient, and professional, and essential to anyone undergoing an appeal procedure."
A, University of Exeter
"I was very impressed with Daniel's professionalism and the way he conducted the case. I was anxious to have the case concluded quickly and found him to be responsive to my needs, helpful, and above all extremely efficient. I would happily recommend Alpha to others in future as a result of my experience."
Muhammad Ali (Imperial College London)

M, Imperial College London
"Puzzled by the complexity of the appeal form I was hugely relieved to find Dr Sokol. From the initial consultation on Daniel was dealing with my case very professionally and I felt completely reassured that I contacted the right person. The form turned out to be just the way I wanted it to be: a very convincing appeal summarising all my issues in a clear and concise way."
K, City University
"I'm glad that I've come across Dr Sokol. The appeal process can be very stressful and at times you feel you've had just about enough from the less than help you receive from others about this matter. Having someone who is expert, professional and humane during this process was very important to me. Daniel was also polite and very responsive to any questions I had. He listened carefully, and helped me greatly with my case."
E, Imperial College London
"Without sounding overly dramatic, Daniel at Alpha Academic Appeals has been a lifesaver. After working a large part of my life towards a career path, I was left seriously questioning what path to follow and felt largely lost after being academically dismissed. Daniel prepared my appeal with all the evidence I gave him in a short space of time.
Meeting up with Daniel wasn't realistic due to the time frame and distance hence all correspondence was done via email and over the phone but this never seemed like a problem as he was always very quick to respond. Without doubt I feel I am only back on my course due to the persuasive appeal letter submitted, and without Daniel I wouldn't having been aware of the codes of practice the university were potentially breaching by not offering me another chance.
In the kindest way, I hope I am never in a situation where I would need Alpha Academic Appeals again but I would wholeheartedly recommend it to anyone who finds themselves in the unfortunate circumstance of being on the wrong side of an academic decision and is seeking help with appeals at university. Thank you for all you help Daniel! :D"
S, University of Hull